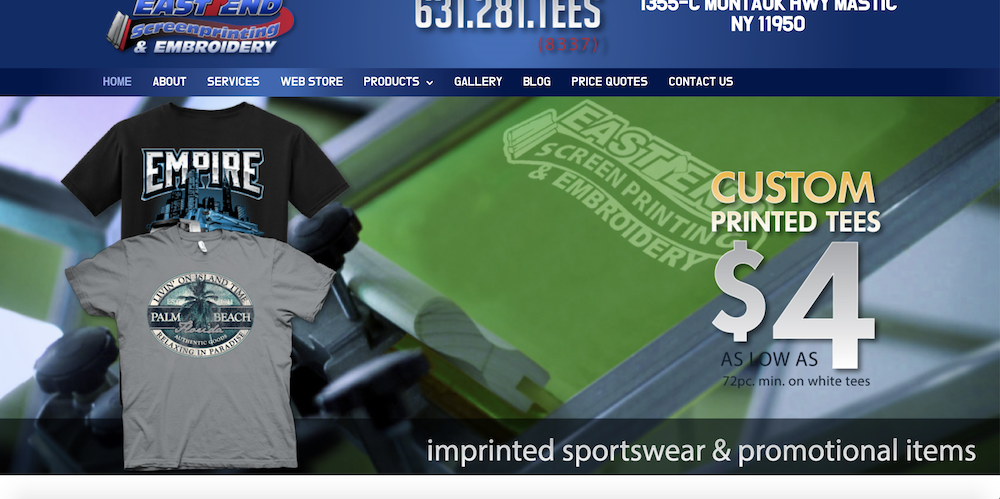 Specializing in screen printing & embroidery for over 10 Years, East End Screen Printing is your source for imprinted clothing & promotional items. East End Screen Printing can accommodate small to large orders with a quick turnaround. From schools to sports, businesses and so much more we can handle it all.
Our in house art department houses highly skilled graphic designers making sure your product comes out exactly how you want it! We only use the highest technology and the latest machinery to print on clothing, apparel and promotional items. We work with all styles and name brand apparel companies to give you the look you desire. Our team can screen printing on these items and more:
T-shirts
Sweatshirts
Hats
Long Sleeve tees
Jackets
Polo Shirts
Tye Die Shirts
Shorts
Flannel Pants
Tote Bags
In keeping up with our technology we have hired Long Island web design agency, Benjamin Marc to design our website.
East End Screen Printing Launches A New Website
"Ive seen East End Screen Printing for years passing by on Montauk Highway in Mastic. To get a call from Bruce to redesign their website was a privilege for out company. They are know for being an unbelievable screen printing company on Long Island. The new website has several great features. To name a few, online visitors can browse through online catalogs for clothing & apparel styles. Customers can also receive a price quote & view their gallery that has tons of samples from past clients. All in all the website came out amazing! Benjamin Marc is very happy that East End Screen Printing retained us as their SEO company to help boost web rankings. Since the launch we have seen an increase in online visitors and the duration of time spent on the website". Commented Anthony Savino of Benjamin Marc
If you have questions, concerns or you want to order apparel please contact us.